Leadership Training to Improve your Corporate Culture
BUSINESS LEADERS:
Are you ready to go from good to great? Are you looking for ways to:
•Improve productivity,
•Reduce turnover, and
•Increase profits?
Are your employees as engaged as they should be?
Did you know 53% of employees quit due to a poor realationship with their supervisor?
We have the solution for you!
JOIN the Health Design Leadership online program, where you'll receive weekly advice on the best ways to sharpen your leadership skills and create a great company culture!
You'll learn how companies consistently rated the Best Places to Work create successful teams that thrive year after year. You'll receive valuable information each week that will help you take your leadership skills from good to great!
Smart leaders know how to focus on the health, wellness, and safety of their team.
Did you know the UNwellness of employees costs companies, on average, a whopping $3,500 per employee, per year?
Do the math for your company.
How much are you losing each year?
Our leadership tools will help you identify and reduce those losses, so you can increase employee engagement and profits.
The Health Design Leadership program will keep you on top of the latest best practices for business leaders. Whether you're a CEO, manager, HR professional, front-line supervisor, or an employee who wants to prepare for a management position, this program is for you!
JOIN our dream team today!
---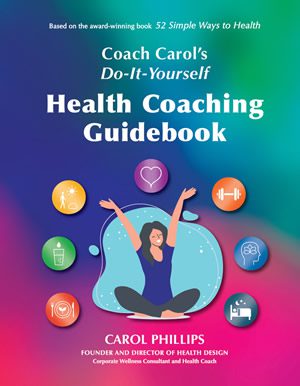 Did you know wellness is about much more than diet and exercise? Too often, people work hard to make healthy choices, without realizing they are sabotaging their best efforts. The result is repeated disappointment and frustration. Are you one of them?
Don't despair! Coach Carol will help you end that vicious cycle!
Based on her award-winning book, 52 Simple Ways to Health, Coach Carol's Do-It-Yourself Health Coaching Guidebook combines short education lessons with action plans and encouragement. And includes lined pages for journaling!
You'll quickly learn to recognize what is holding you back, while making simple, yet effective, behavior changes that are easy to implement. Before you know it, you'll see positive results and feel much better about yourself!
Give yourself the gift of healthy living! The new YOU begins TODAY!
---
Need an engaging keynote speaker for your next event?
Does your leadership team need to go from good to great?
Carol Phillips (Coach Carol) is a nationally sought-after Keynote Speaker and the Award-Winning Author of 52 Simple Ways to Health and Coach Carol's Do-It-Yourself Health Coaching Guidebook. As an executive leadership coach, Carol helps business leaders go from good to great!